A friend of mine is touring Japan, and he sent me a message asking about eating on the train. He didn't see anyone around him doing it, and was wondering if it was bad manners to do so. In general, people don't eat in shared public spaces because it's just that shared public space. However, eating on express trains like the shinkansen is different. Interestingly, train station lunch boxes called ekiben are specialty items that can only be purchased at the train station before or after boarding the train. The express trains are associated with long trips that would include having a meal, and are therefore considered normal.
This question led me to think more about the practice and teaching of Japanese manners. In Japan, manners are often considered with how another person is affected by an action. Good manners make things easier for another, shows consideration, while bad manners disrupt others from their task or cause nuisance to others.
The other day in Japanese class a student handed me a pile of papers, mixed up in disarray. It doesn't bother me personally, but part of my job as a Japanese language teacher is to also teach Japanese culture, including manners. The student didn't think much of it, but that's exactly the essence of expressing your manners in Japan. Thinking of how your actions are a part of others and what you can do to make things more cohesive. For her to pile the papers up together in the same direction would have been the norm. The next level up would be turning the papers around so that they are properly facing the person you are handing them to. The final step would be in using both hands, instead of one, to give them to the teacher. Doesn't seem like much, but in Japan it's those little gestures of thinking of others that express your manners. And in all honesty, people will think you are rude if you don't do just that.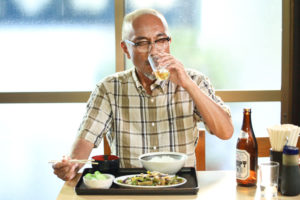 In the Netflix original Samurai Gourmet, the social conflict of proper Japanese manners and individual identity is explores. The protagonist Takeshi  (played by Naoto Takenaka) struggles with properly expressing his individual identity and conforming to proper customs of Japan. It's a great recreation of the manga series and I highly recommend it to everyone to watch! Anyway, in one of the scenes, he is sitting in a quiet coffee shop and two noisy adults come barging in without regard to the others. Everyone takes notice, and he feels obligated to confront the two to tell them to be quiet and respect the quiet space. He doesn't follow through with his convictions, and instead the waitress steps up to politely but directly ask the two noisy customers to turn down the volume of their conversation and be respectful of others.